NEWS

RESULTS

GAMES

PICTURES

Comments? Contribute via the
English Chess Forum
NEWS
GM David Howell wins the Open
Read about
GM David Howell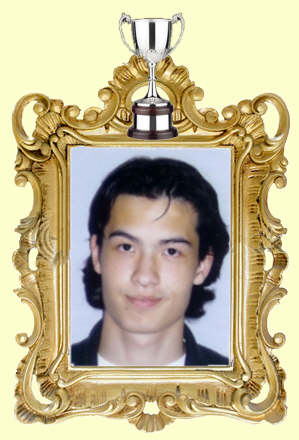 View some
other players' pix.
Report by Tournament Co-ordinator, Brent Kitson
With nearly four hundred entries the weekend saw some fine chess. A summary of the main winners is given as follows. For more detailed information visit the
Results
page.
Open 1st David Howell GM 10.5/11. Joint 2nd Mark Hebden GM & Jonathan Hawkins FM 8.5/11
Major Joint 1st Guy Batchelor & Mark Talbot 8.5/11
Intermediate
Joint 1st Robert Hughes & Adrian Archer-Lock 9/11
Minor 1st Andrew Cowan 9/11
England Under 11 Trial Joint 1st James Walsh & Anna Wang & Alexei Davis & Ravi Haria all on 5/6
Junior Champions (Sunday)
| | | |
| --- | --- | --- |
| Francesca Fozard | under 16 | 3.5/5 |
| Alex Harris | under 14 | 4.5/5 |
| Joris Gerlagh | under 12 | 4.5/5 |
| Conor Murphy | under 10 | 4.5/5 |
Coverage on the day below. All the top games on Games.The top eight Open boards were transmitted live.
Grandmasters David Howell (fresh from the Olympiad), Mark Hebden, Stewart Haslinger and Keith Arkell, to name but four, were all there. Pete Wells GM, the 2007 champion, was unfortunately not present. Harriet Hunt WGM was also there. On the first day David Howell started to show commanding form. Despite the cold weather and fog, the chess was hot as David strode into the lead. Only Keith Arkell GM could hold the young grandmaster. Meanwhile in the under 11 England Qualifier Ravi Haria was showing the form which won the event in 2007. Andrew Garside had a straight eight wins in the Minor event. By the evening David Howell GM led in The Open on 5.5 out of 6 points.
Sunday saw that the fog had gone. Leeds United football team got beat 1-0 by Histon. Was this to be the day of the H's? But which one? Howell, Hebden or Hawkins? In round eight Jonathan Hawkins FM made a strong but unsuccessful attempt to unseat David. David finished strongly with several wins, and before the final round, he knew he was home and dry. Mark Hebden GM grinded out the key final rounds and got joint second with Jonathon Hawkins FM. This win by David Howell GM is significant as the highest score in the Tournament's modern era history. Only Nigel Short in 1986 with 11/11 has done better. The gracious new young champion had done it in style. Once again the weekend was dominated by many upcoming juniors, and many sections saw some real chess talent. My personal thanks to all the Controllers, Administrators, Helpers etc, and above all the chess players who made this a successful weekend.
News as it broke on the day
Round 11. Unbeaten Howell wins with 10.5/11
Second and trailing by two points are four-times winner GM Mark Hebden 252 and FM Jonathan Hawkins 205
Fourth is IM Lawrence Trent 231with 8/11
Round 10. Howell (9.5/10) clinches the Championship with a round in hand with a win against FM David Eggleston 197.
Second equal are GM Mark Hebden 252 and FM Jonathan Hawkins 205 both on 7.5/10.
Paul Hutchinson 167 is now ninth equal on 6/10, ahead of many titled players.
Round 9. GM David Howell 248 wins again, against FM Jovica Radovanovic 187, and now has 8.5/9
GM Mark Hebden 252 is second with 7/9 with only a theoretical chance of winning now.
IM Lawrence Trent 231 and FM Jonathan Hawkins 205 tie for third at 6.5/9
Round 8. GM David Howell 248 beats FM Jonathan Hawkins 205 who was under severe time pressure and leads with 7.5/8
Joint second, but a point and a half adrift, are GM Mark Hebden 252, GM Keith Arkell 232 and FM Jovica Radovanovic 187 all on 6/8
A good win for Peter Poobalasingham 196 of Millfield School against IM Stephen Gordon 235 places him in joint fifth place with with IM Lawrence Trent 231 and FM Adam Ashton 201 at 5.5/8
Round 7. GM David Howell 248 beats IM Lawrence Trent 231 and maintains lead with 6.5/7.
FM Jonathan Hawkins 205 beats IM Stephen Gordon 235 to be clear second (5.5/7)
12 year old Brandon Clarke 163 is punching well above his weight and is in the top 16 with 4/7
---
Round 6. Four of the top games are drawn and GM David Howell 248 goes into the second day a whole point clear (5.5/6).

Second equal on 4.5/6 are IM Stephen Gordon 235, GM Keith Arkell 232, IM Lawrence Trent 231, FM Jonathan Hawkins 205
Round 5. GM David Howell 248 who was 18 on the 14th of this month beats GM Mark Hebden 252 and goes into a clear half point lead 4.5/5
Round 3. FM Jonathan Hawkins 205 holds GM Mark Hebden 252 to a draw.
FM Jovica Radovanovic 187 holds IM Harriett Hunt 228 to a draw
Round 2. GM Stewart Haslinger237 loses to FM Jovica Radovanovic 187
SATURDAY 29th
Round
Starts
Ends
1
OVER
2
OVER
3
OVER
4

OVER
5
OVER
6
OVER

SUNDAY 30th
Round
Starts
Ends
7
OVER
8
OVER
9
OVER
10
OVER
11
OVER
TEST yourself against the BEST
Juniors and others might enjoy looking at some of the slips made in last year's Open Championship games
here
. Scroll through the games to any place where Fritz calculates that a blunder has been made. Occasionally you will find that Fritz is wrong - too short-sighted. But usually you will find a line that some of these excellent players have missed in the speed of play. Either way you can learn a lot, and perhaps gain in confidence.
View 2007 pages
View Wikipedia entry, includes past champions